Root Canal Myths
Nothing looks like, feels like, or functions like a natural tooth. When the pulp of your tooth gets infected or diseased, a root canal provides you the opportunity to maintain your real tooth for a lifetime with no ill side effects. Yet many people are still concerned about several misconceptions and myths about root canals that were dispelled a long time ago. Since this week is the 10th Anniversary of Root Canal Awareness Week, an event that focuses on education and raising awareness about these misconceptions, we'd like to share with you the most common myths regarding root canal treatment.
Myth #1 – Root Canal Treatment is Painful
According to a recent survey by the American Association of Endodontists, 67% of Americans say fear of pain most concerns them about having root canal myths treatment. This is a common misconception because the majority of root canal procedures are performed pain-free. In fact, root canal treatment is no more uncomfortable than getting a filling placed, and it's a beneficial treatment that eliminates pain and allows you to keep your real tooth.
Myth #2 – Root Canal Treatment Causes Illness
Most research that claims that illness or disease is caused by root canals actually dates back to the 1920s when sanitation was a concern and there were other factors that don't exist anymore. More recent studies found that there are actually greater health risks, such as heart disease, associated with the loss of your real teeth and untreated root canal myths infections or endodontic disease.
Myth #3 – Tooth Extraction is a Good Alternative to Root Canal Treatment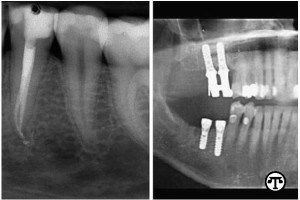 Research shows that saving your natural teeth has extensive health implications. The truth is that root canals myths are preferable over extraction for many reasons. Tooth extractions are a traumatic procedure and are known to cause a significantly higher incidence of bacteria entering the bloodstream, whereas root canals  are less invasive. Most endodontically treated teeth last a lifetime, which ensures you maintain the ability to chew efficiently, and keep the natural appearance of your smile.
Often, the people who have had a root canal myths treatment are the first to tell you that they're painless, safe, and a preferable procedure. Here's what one of our root canal patients had to say:
"I needed to get a root canal and was recommend to Dr. Iofin… He is the best there is in nyc… no need to research any other dentist. The procedure was painless and his staff is extremely professional…Dr. Iofin use the latest cutting edge technology and is extremly knowledgeable and compassionate… He asked me several times during the procedure how I was feeling.. Dr. Iofin is a very talented and understanding Endodontist…you will be in great care with him." – Al J. Mt. Kisco, NY
In our next article, we'll discuss how advancements in technology have made root canals myths and endodontic procedures a safe, painless and highly effective treatment option for saving and preserving your real tooth for a lifetime.
If you are experiencing tooth pain, or if a root canal treatment has been suggested by your dentist, call Fifth Avenue Endodontics for an immediate appointment. As your New York City root canal endodontist, we specialize in saving your natural teeth.
REFERENCES:
*A study done in 2006 by the Journal of Dental Research found that a relationship between endodontic disease and coronary heart disease. An earlier study in 2005 by the American Journal of Preventative Medicine found that tooth loss was associated with a greater risk of heart disease, with those who had lost the most teeth at the greatest risk. For more information, visit www.rootcanalspecialists.org