About Dentures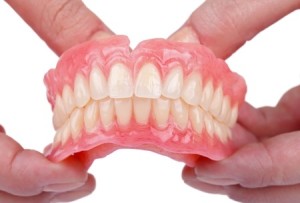 Dentures are an artificial replacement for natural teeth, made of acrylic (plastic) and metals (like stainless steel). They are custom designed to fit your mouth and designed to look just like your real teeth.
Dentures come in two main types and we've described the differences below. Your dentist will explain which option will best fit with your lifestyle.
Full dentures (upper and lower dentures): These are recommended when all natural teeth either in your upper or lower arch (or both) need replacing.
Partial dentures: These are recommended when multiple natural teeth need replacing. They also help maintain the alignment of your remaining teeth and keep them from shifting.
How are they made?
After a tooth is extracted or lost, the tooth socket starts to fill in with bone and the gum tissue heals and changes shape. This process takes a few months until the gums and bone reach a stable shape. After this time, a conventional full denture is made, preferably about 8 to 12 weeks after the teeth were extracted or lost from the mouth. The process starts by taking a series of impressions or molds of the oral tissues that will support the denture. A dental lab will use these impressions to make models of the patient's mouth. The dentist and laboratory technician will then slowly start building the dentures on these models and transferring them to the patient's mouth at each step to ensure proper fit, establish a proper bite, and ensure that the appearance and esthetics of the denture are desirable.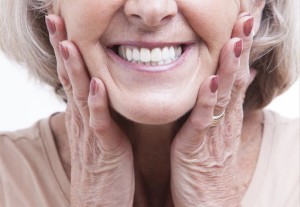 The patient will generally need to be seen by the dentist once per week for about 4 to 5 weeks until the denture is complete. The patient will then need to return occasionally during the first month after the denture is delivered to have adjustments made. An immediate denture can often be made so that the patient has something to wear the same day the teeth are removed. This type of denture is made before the teeth are extracted and is put in place the day the teeth are removed. Sometimes the back teeth are taken out first and the front teeth are left in place until the day the denture is delivered. This type of denture doesn't fit the bone and gum tissue as intimately as a conventional denture, so it requires more adjustments during the healing stage. An immediate denture is best used as a temporary appliance until a conventional denture can be made after all of the gum and bone healing is complete.
Are there alternatives?
Yes, there are bridges and implants. A bridge replaces missing teeth by placing crowns on the teeth next to the space and attaching a fake tooth to both of the crowns. Bridges are made from gold, porcelain fused to gold, all porcelain, or zirconium. Bridges can only replace about two to three missing teeth in a row, depending on the location. Since bridges are cemented in place, they are considered a "fixed, or permanent denture."
An implant is a metal post that is inserted into the bone of the upper or lower jaw. This post is then used to replace a single tooth by attaching a crown to it, or multiple teeth by attaching a bridge to multiple implants. Implants are the most expensive option for tooth replacement, but implants simulate natural teeth better than any of the other options.
Fifth Avenue Endodontics welcomes your questions about tooth problems, repairs, and options. We are your New York City root canal specialists! Thank you for reading.