The Tooth Anatomy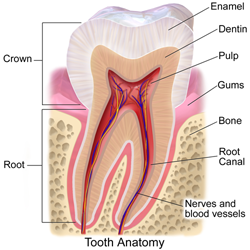 Understanding a root canal or any dental procedure is more easily done when you understand the tooth anatomy. The field of tooth anatomy concerning the physical structure of teeth. The outside of your tooth is covered by a very hard, white enamel. Tooth enamel is the hardest substance in the human body, and it takes a beating from biting and chewing, not to mention the extreme temperatures of hot and cold beverages and foods.When you think about it, it's surprising it doesn't wear down and decay more frequently!
The enamel is very hard for good reason – it protects the soft, sensitive insides of the tooth. The layer immediately under the enamel is called dentin, and it too is fairly hard. But under that is the pulp – very soft and sensitive. The pulp is what can become infected or inflamed. Infection and inflammation can come from a number of causes – a crack in the enamel, a chip in a tooth, decay from cavities, or a faulty filling or crown.
Obviously, if infected or inflamed pulp is left untreated, it will lead to pain for the individual. This is why at the first sign of mild pain or discomfort in a tooth, you should see your dentist. When decay has spread up into the root of the tooth, you may need a root canal from an Endodontist. Endodontists, such as those here on 5th Avenue, work specifically on the inside of teeth. We are "interior teeth specialists."
The roots of the teeth reach up into your gums. They anchor your teeth and keep them in place, and are an essential part of a healthy mouth. Decay travels, so it can get into the roots.
Endodontists save millions of teeth each year, by performing root canals and avoiding the entire tooth being ruined. Saving a tooth is always preferable to losing a tooth. These days, a root canal treatment is very similar to receiving a filling. Gone are the days of root canals being a highly painful dental procedure. They've become routine with modern products and equipment. Endodontic treatment will save the tooth and reduce the need for further, future dental work.
However, nothing beats good old prevention. You don't want the exposed part of your teeth to become decayed, which is why brushing and flossing regularly is encouraged. You don't want to eat lots of sugary foods either, as sugar contributes to decay (and it's not good for us, anyway!). Untreated decayed teeth can lead to an abscess, and you don't want that, as it will be painful when it develops.
Luckily, roots can be cleaned out, filled and healed by skilled Endodontists whose goal is to see everyone have a healthy smile. If you have questions about your teeth or gums, please don't hesitate to ask your NYC Root Canal specialists here at Fifth Avenue Endodontics.