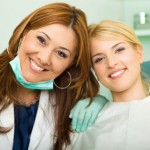 Maybe you just moved to a new area and so you are looking for a dentist. Or maybe you wish to leave your current dentist and make a change to someone else. Either way, here are some things to consider to help you "find the right dentist".
Like anything else, a little research or 'digging' is required to enable you to make an informed decision about your new dental office. Start by asking around – ask your neighbors or coworkers if they have a good dentist that they like, who is in your area. Or post a Facebook query and see your friends' responses.
Once you have a couple of names – go online! Search both the name of the dentist AND the name of the business / office. Look for reviews and testimonials. What do others have to say about this dentist?
If you have a dentist and aren't sure how he or she stacks up, you can 'rate' your dentist by researching him or her online and comparing his or her bio and reviews to other dentists you identify online. See how your dentist's client satisfaction and experience stacks up to others in the area. Find out if there are any complaints about him or her.
Look for a Bio (biography) which should be on your dentist's website. You want to see some experience, and look for any specialty areas. For example, are they an endodontist – someone who specializes in root canals? Or do they have an endodontist in their office? If there is nothing online, don't hesitate to ask any dental professional for their credentials. They should be happy to email you their Biography or resume' – or even give you some names and numbers of references you can call.
Pay attention to the validity of the site you are on. Some online review sites are more "legit" than others. Angie's List, Better Business Bureau, and Chambers of Commerce member directories are all good places to find reputable, upstanding health providers of any type, including dentists. You can also check with the American Dental Association and find an ADA member dentist, at ada.org.
You should also feel free to ask your current dentist any question – if you are 'rating' your current dentist and they answer questions too quickly or only partially, that's a sign that it might be time to look into someone new. You can also call any potential new dentist and ask any questions you have. Again – they and their staff should be happy to answer, and do so to your satisfaction.
Last but not least, don't be afraid to drive a few miles. The best dentist for you may be in a different part of town and not right next door. But a courteous, well trained, caring dentist is worth the trip.