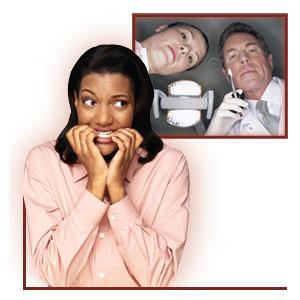 Has it been six months already? That appointment reminder in the mail has set your mind running and upped your heart rate. What if I have a cavity? What if it's painful?
For some people, going to the dentist is a small fear that they never grew out of after childhood. They don't like the thought of going to the dental office, and they associate dentistry with anxiety. Yet good dental health is imperative. So how can one overcome being anxious over dental work?
The key to eliminating that anxiety is a mix of preparation, consultation and explanation.
Preparation
Want a dentist with excellent bedside manner? There are plenty of health review websites that allow patients to research the dentists on their insurance plans. Sometimes there are star ratings for things like:
Knowledge
Bedside Manner
Quality of Staff
Cleanliness of Office
Punctuality
Some websites allow written reviews that you can read. Here you'll be able to read real stories of past patients who have had both positive and negative experiences. Knowing your doctor has good reviews and happy patients will help you to feel comfortable and self-assured during your visit. Of course, you can ask your friends or coworkers to recommend a good dentist as well.
Consultation
During your appointment, don't be shy about letting your dental assistant and dentist know you're anxious. This is something they come across very often in their practice and they'll be experts at doing their part in quelling your fear. You should feel free to ask your dentist what he'll do during the appointment, what sort of education and experience he has—and what sort of pain killing and anxiety-reducing drugs (such as Novocain, Nitrous Oxide or IV Sedation)  he uses. Learn and understand your options. Often, dentists will allow you to come in for a separate consultation before your appointment to get work done. This way they can show you the facilities, explain what happens during the appointment and give you an estimate on the price.
Explanation
Narration can be a helpful tool when it comes to anxiety. Ask your dentist and dental assistant to explain what they're doing as they're doing it. You'll find that those loud noises and bright lights will be somewhat more welcomed when you know what they're used for. Ask them to tell you when to expect pain, dryness, or pressure. Much anxiety is created from the point of not knowing what's happening—or anticipating a pain or unpleasantness that you aren't even sure is coming.
Root canals are especially concerning for those with "dental anxiety". By going to an endodontist – someone who has had additional schooling and training to perform root canal procedures – some of that stress can be alleviated. Don't hesitate to ask your dentist to recommend an endodontist if a root canal is needed.
Going to the dentist doesn't have to be fraught with drama and trauma. You do have tools at your disposal to help you feel more in control of the situation.  Follow the three simple rules—Preparation—Consultation—and Explanation—and your next visit will be easy as (sugar-free) pie!