Providing The Highest Quality Dental Care,
Using The Most Advanced Equipment And Techniques

24/7 Dental Emergency Case
If you need a doctor urgently outside of the regular office hours, call the office number and listen to the instructions. Contact Us Today

More About Us & What We Do
Click Here To Learn More About our Practice and the Procedures we Perform Learn More
We are the premier root canal treatment specialists in Manhattan, New York
At Fifth Avenue Endodontics, we take pride in our highly-trusted, experienced endodontists who are committed to providing exceptional treatment. Our experienced team has years of expert knowledge, making us some of the best endodontists in NYC. We are dedicated to the highest standard of professional care using state of the art technology. Whether you require a painless root canal or any other endodontic treatment, our certified endodontists will provide you with high-quality treatment in a warm environment.
The team at Fifth Avenue Endodontics has specialized training in diagnosing and treating various dental issues. We utilize the most advanced equipment & technology to provide patients with the best outcome. Our friendly and knowledgeable staff believes in patient-centricity and ensures that all our patients have a positive experience.
Do you need experienced care in the most painless way possible? Make an appointment at Fifth Avenue Endodontics today!
Experiencing pain or need immediate help?
What Our Happy Clients are Saying
At Rockefeller Center, Dr. Aleksander Iofin re-defines the terminology "root-canal" while remaining less expensive than other endodontists in town. Overall, anxieties were met/combated with up-lifting intelligence, state-of-the art technology (cleanest equipment, high-tech instruments, classical music), and extremely skilled techniques. During both visits – not being the easiest of all cases – I have never experienced any pain. A big, big thank you to Dr. Iofin and his caring team (they even called the next day to see, if I was still breathing). I am definitively ready for my next one.Adelheid C. New York, NY
I needed an enodontist asap. my dentist recommended dr. iofin. they were great about seeing me, my care was wonderful and the after effects were simply pain free. i would have no trouble recommending him to anyone.Sara S. New York, NY
Dr. Iofin was by far amazing. I have never recieved service as Phenomenal. I would recomend Dr Iofin to anyone.John L. New York, NY
I've had major problems with a post that was misplaced by my former dentist. The hole for the post was drilled off center into the jaw, causing inflamation and recession of the bone. Since this tooth was one of the basis for a bridge, the whole prothesis was jeopardized and I would have needed 2 implants and a new crown to close the gap. Dr. Kim opened the jaw, cut away the post reaching into the jaw, sealed the root and managed to get the bone to rebuild. Magic! This saved me from going throught months of treatments and spending a fortune. I had absolutely no pain during and after surgery except for slight discomfort during the healing process. Dr. Kim called after surgery and checked the tooth/jaw every 3 months for more than a year without charge. On another incidence, where I was about to loose another tooth, caused by malpractice of my former dentist, Dr. Kim again performed magically! I had a root resection done earlier and for unknown reasons the tip of the root was left in the jaw, causing a tremendous inflamation. Critical on this surgery was, that the tip was located very close to my sinus. Guess why it was left there! Dr. Kim is absolutely the best!Anonymous New York, NY
Over the last 10 years I went through several endodontists and had to redo the same root canals over and over again. I finally found Dr Iofin – an endodontists that fixed them once and, I hope, for very long. It has been at least 3 years so far. My original root canals were very bad – messed up by Soviet dentistry. Finally, I am pain and inflamation free. I highly recommend Dr. Iofin and Dr. Kim to anyone that cares about their dental health. If you are liooking for a 5 star setting, you might have to go somewhere else (for who knows what treatment). If you want oral health – come to theses doctors.Julia G New York, NY
Dr Kim & Dr Iofin are members of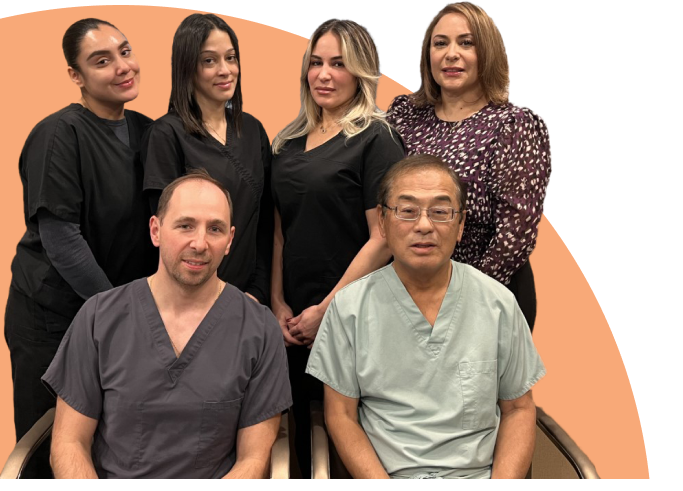 Our priority is not just your teeth. We welcome and care for you just like family.